Introduction
Menzel is a company solely involved in catering to the growing imaging solution needs in Singapore. South Asia & the South East Asia. Be it simple video inspection , machine vision or detailed image analysis, be it surface inspection for defects or quantification of microstructure measurement data, be it a research project or a production line, has an imaging solution for every application.
Ease of operation, fast, accurate result and a great price performance ratio and most importantly providing a solution that works for you from day one are the key factors that go into the integration of each of our imaging solution.
Testimonials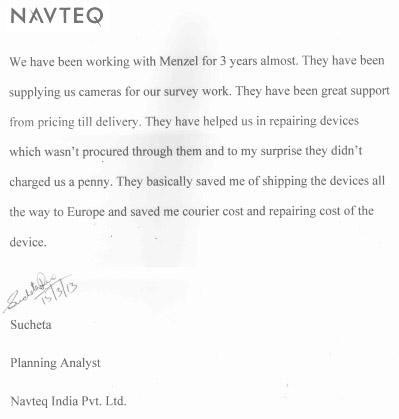 Our Infrastructure
We possess a strong manufacturing unit, well equipped with hi-tech and sophisticated machinery. Our manufacturing capabilities are built upon automated specialized equipment.
We provide standardized manufacturing techniques so as to be able to meet the tightest of the scheduled orders. We are well equipped with state-of-the-art machines, that facilitate the flawless checking of the products.
Over the years we have reinforced our commitment to precision and quality.
Quality assurance
We aim to achieve our customer's satisfaction by delivering reliable products with consistent quality. Our products are constantly updated and upgraded in order to allow ourselves to maintain our leadership role in all our services.
The purpose of our quality system is to reduce, eliminate and most importantly prevent damage in our products maintaining their efficiency and efficacy.
Additional Features
Powerful features have been developed such as
Object Locate
New Communications Manager
Tool Consolidation / Enhancement
New Reader Tools with Global Fonts
Robot-Friendly Tools for positioning, calibration and distortion compensation
our mission
To strive most passionately in offering our customers imaging components and vision solutions with the highest performance at best value.
To remain focused on ensuring the most efficient support to assist our customers derive optimum productivity and value from our products.
To be fair to all our suppliers and help them grow alongwith with us.
To offer our employees a healthy working environment that helps foster both prosperity and also personality development.
To ensure that business ethics,human values shall always remain more important,sacred to us than mere profits and be a good corporate citizen.
our values
To be the market leader in Asia by 2015 and be blessed with the most delighted customers,happy suppliers and the happiest employees.
To be a important catalyst in helping make our imaging and automation solutions go beyond the factory floor,touch more lives -help making them more comfortable and productive.
To constantly endeavor towards contributing equally to all stake holders as well as the all inclusive growth of society with an eye on a better,cleaner environment.
People and Experience
We have a diligent and disciplined team of professionals that has helped us in manufacturing world class instruments and equipment. We possess a well equipped testing and servicing unit for strict checking of the products that we manufacture. Our team is completely dedicated towards manufacturing high quality products and ensure to take the company to greater heights.
Our efficient and capable team of skilled personnel ensures that the quality of the products is thoroughly checked before the final dispatch to the clients. Our team is skilled enough to understand the requirements of the client and produce the premium quality products.